IN-SIGHT 2000 VISION SENSOR

The power of an In-Sight vision system with the simplicity and affordability of a vision sensor
| | |
| --- | --- |
| Companies in a wide range of industries rely on vision sensors to perform simple pass/fail, go/no go inspections that help ensure products and packaging are error-free and meet strict quality standards. Cognex In-Sight 2000 vision sensors provide easy and reliable inspections thanks to powerful vision tools, modular lighting and optics, and an easy-to-use setup environment. By reducing defects and increasing yield, Cognex vision sensors help manufacturers streamline their operations and increase profitability. |                 |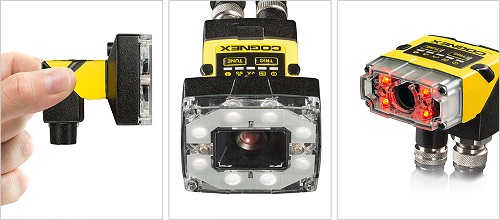 Fast, Intuitive Set-Up with EasyBuilder 
| | |
| --- | --- |
| All In-Sight 2000 vision sensors use In-Sight Explorer EasyBuilder to set up and monitor machine vision inspections.  The intuitive, point-and-click interface guides users through a step-by-step setup process for easy application development.  With EasyBuilder, even novice vision users can easily set up, configure, and install a vision sensor.  The TestRun validation utility for In-Sight Explorer helps ensure that the reliability of inspections won't change, even when conditions do, by monitoring whether programming changes have affected the system.   |   |
| Powerful location, presence/absence, measurement, and counting tools can be configured directly within the EasyBuilder interface, making it easy to set up and solve pass/fail and go/no go inspections. |   |
Trusted Vision Tools
| | |
| --- | --- |
| Cognex's pattern, pixel count, brightness, contrast, and edge tools enable the In-Sight 2000 to perform advanced presence/absence, measurement, and counting applications. Using these tools, the In-Sight 2000 can inspect multiple targets within a single image, as well as perform multiple inspection types relying on different tools. Pattern, edge, and circle tools locate (or fixture) the part so other vision tools can use this as a reference to complete their inspections  |   |
|   |   |

Pattern tool verifies that the correct number of staple strips have been added to a carton.


Brightness tool confirms the presence of all 10 capsules by showing the greatest delta between pass/fail areas.


High contrast in the target area indicates the presence of a diode.


Multiple edge tools measure pixels to detect a clean edge on a drill burr.


Pixel count tool confirms the presence of 13 separate hole punches within one target by determining pixel value.


Color pixel count tool confirms the integrity of packaging by identifying pixel values of colors trained in the region of interest.

Technical support and service by